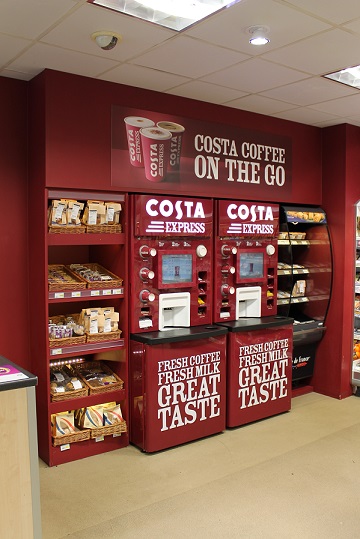 Costa Coffee On The Go.....To MFG
Top 50 Indies forecourt operator, Motor Fuel Group (MFG) has announced the signing of an agreement with Costa Express to supply its 48 station network with a market leading quality coffee offering.
MFG's non fuel director, Tony Walker says: "As part of our planned shop refit programme, we are pleased to be integrating an acknowledged market leading, quality coffee into our customer offering.
"By the end of this year, some 27 of our stations will be offering Costa and the rest of our current estate will be complete by mid 2013 and, as we grow, the Costa brand will grow with us."
Tony concluded: "Our intention at MFG is to only partner with leading, recognised brands that will add value to the customer experience on our forecourts and in our shops."
The MFG stations will be equipped with the attractive and user-friendly Costa Compact Mk 2 machine which uses real Mocha Italia beans to offer consumers six standard coffees together with signature specialities and additional flavour shots.