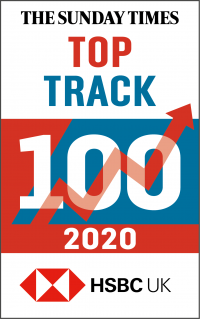 MFG Ranked 8th in The Sunday Times HSBC Top Track 100
Motor Fuel Group (MFG), the UK's largest independent forecourt operator, is ranked 8th in a league table of Britain's one hundred private companies with the biggest sales in the 19th annual Sunday Times HSBC Top Track 100.
In the league table just issued (5 July 2020), companies are ranked by sales as reported in their latest available accounts, or by more up-to-date figures as reported directly to Fast Track by the companies. This year, the 100 companies reached a record £237bn in total sales, up an average of 8% on the previous year.
MFG sales shown in the table for the year ending December 2019 is £4.4bn. William Bannister, MFG's chief executive officer said: "We are very proud to maintain our presence in the top ten of this prestigious league table. 2019 was a solid year of performance and a very exciting time for MFG as our integration and development programmes really started to bear fruit.
"Like all of the companies in the Top Track 100, COVID-19 has and will continue to have an influence on our business in this current year. Throughout the pandemic, we have provided an essential service to the local communities we serve. I would like to thank all our staff and our contract managers for their dedication and commitment at this time, which has been outstanding.
"This commitment and team work is now driving the impressive performance of the business as we enter the second half of the year. We are moving forward with an extensive development and refurbishment programme for our stores, to deliver ever higher standards and range of services that we are committed to offer our to customers."
The league table is sponsored by HSBC and Linklaters, and is compiled by Fast Track, the Oxford-based research and networking events firm.
-ends-
NOTE: Reproduced by permission. Copyright Sunday Times HSBC Top Track 100.