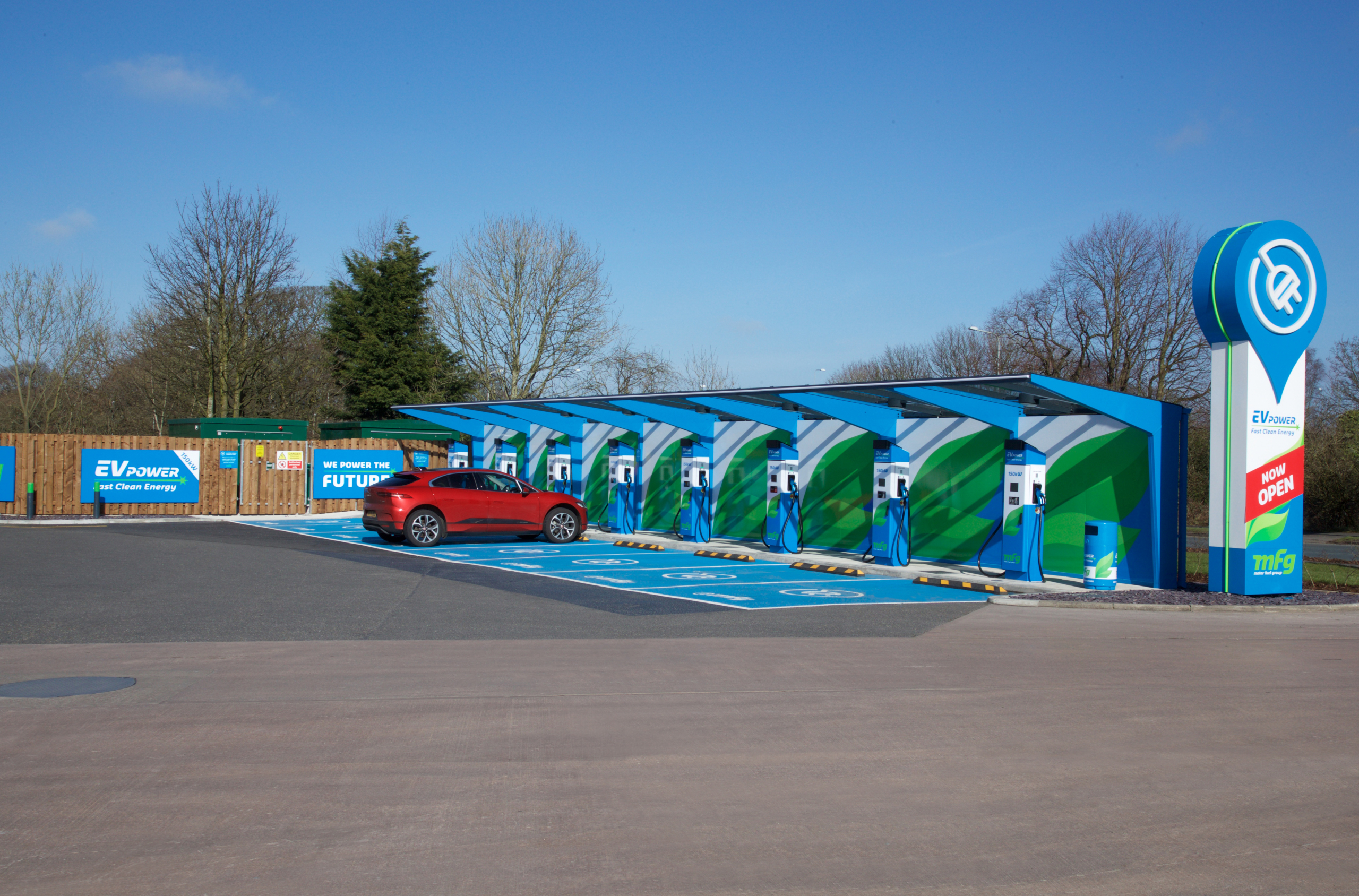 MFG and LondonMetric sign first-of-its-kind EV charging partnership
Motor Fuel Group (MFG), the UK's leading independent forecourt operator, is pleased to announce an Electric Vehicle ('EV') partnership deal with leading real estate owner and manager, LondonMetric Property Plc, representing MFG's first off-network agreement.
The initial programme with LondonMetric will see MFG build 6-8 bay Ultra-Rapid 150kW EV charging hubs at six of LondonMetric's long income retail locations in Birmingham, Cardiff, Coventry, Glasgow, Ipswich and Liskeard.
The partnership will help MFG gain increased EV Power brand awareness, whereas LondonMetric will benefit from a zero-capex solution, additional rental income, new on-site facilities and, at the same time, demonstrate its growing support for a cleaner, greener environment. The hubs will offer motorists 100 miles range in approximately 10 minutes, subject to the charging capability of individual car batteries.
Since 2018, MFG has been installing electric vehicle chargers across its network of 900+ forecourts. 2020 saw the introduction of its own EV Power brand bringing dedicated Ultra-Rapid 150kW chargers to its stations.  By the end of this year 100 EV charging hubs will be in operation or under construction and going forward, a £400 million investment programme will result in c.3,000 Ultra-Rapid chargers at over 500 of its forecourts by 2030.
MFG is also looking to actively grow its EV Power network beyond its existing estate, incorporating Ultra-Rapid EV charging hubs onto retail parks, roadside developments and other locations convenient for motorists.
William Bannister, MFG's chief executive officer, said: "We have already invested significantly and ahead of the curve on EV charging across our own forecourt network. Our intention is to continue to grow and develop a market-leading dual fuel strategy on our forecourts and, at the same time, work with leading real estate owners like LondonMetric to meet the inevitable demand for easy access EV charging from the motorist."
LondonMetric's property chief executive, Andrew Jones, added: "In line with our increasing focus on supporting the transition to a low carbon economy and reacting to the structural changes impacting real estate, this partnership with MFG will provide customers at our sites access to a market leading product; futureproofing them while also driving rental growth. Reflecting the attractive locations of our long income assets, we hope to build on this first phase and progress further installations with MFG across this part of our portfolio."