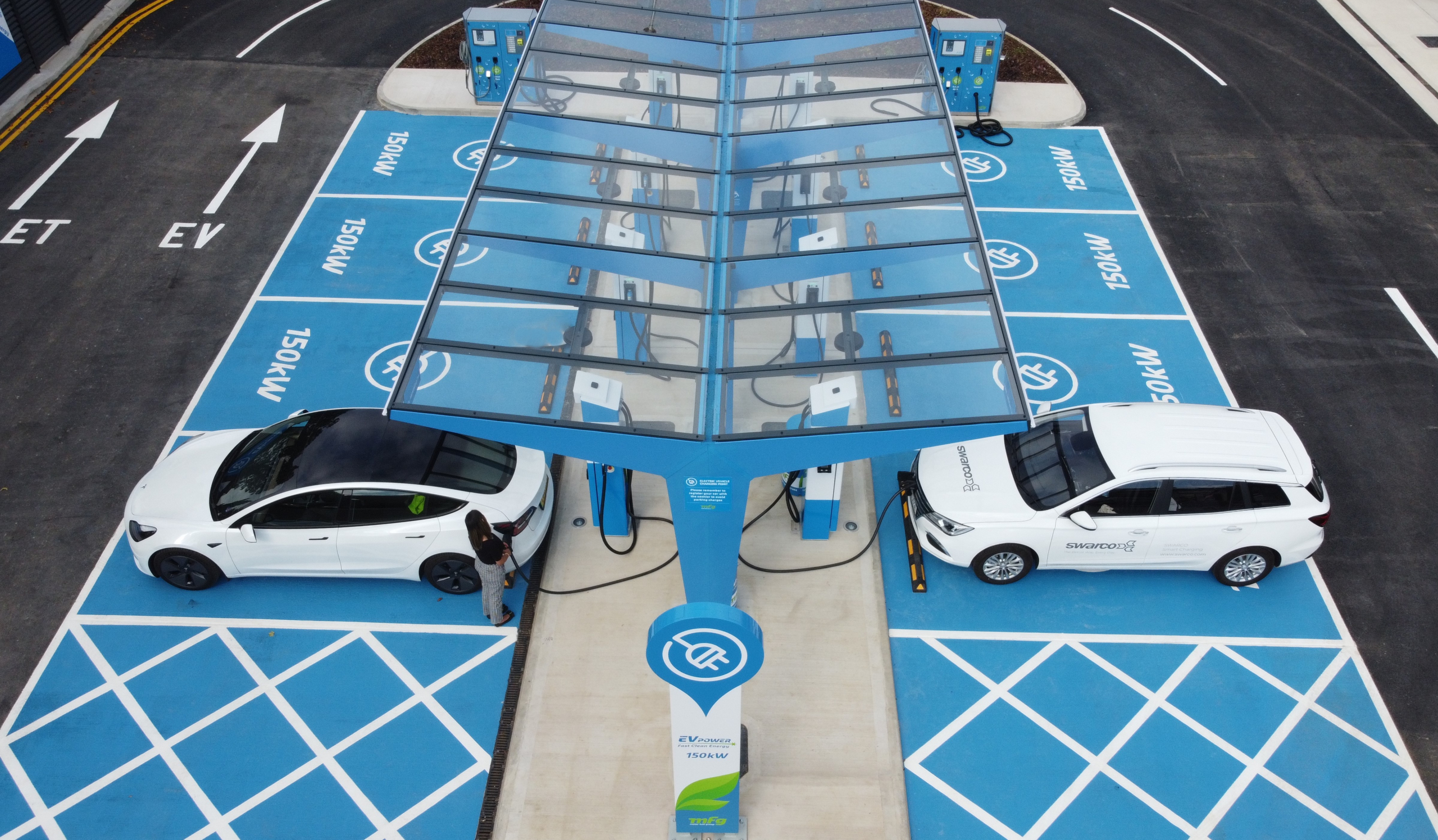 MFG Opens Best In Class Ultra-Rapid Electric Vehicle Charging Station In Putney
Motor Fuel Group (MFG), the market leading independent forecourt operator with over 900 sites across Great Britain, has opened its visionary flagship electric vehicle (EV) charging station, convenience retail and valeting centre on the A3 in Putney, South West London.
MFG, as part of its £400 million EV investment plans, demolished the former petrol station and constructed a new dual-fuel station that contains 8 dedicated ultra-rapid 150kW EV charging bays which can give 100 miles of range in just 10 minutes of charging, and 8 traditional petrol pumps.
As part of the rebuild, MFG has developed 1,500 sq ft of retail space to offer the local community high quality, convenience retail and EV drivers a relaxing and comfortable environment in which to dwell. The site contains Costa Coffee, Budgens and an Amazon drop box and home delivery location. The site also contains a customer cycle store for the local community.
Dual Fuel Strategy
Over the coming decades, MFG will operate a dual fuel strategy. It will continue to provide existing fossil fuel infrastructure whilst rolling out ultra-rapid EV charging hubs. Putney is an example of this with MFG supporting motorists by providing necessary fossil fuel infrastructure, while giving them the confidence to transition to clean fuels in the future.
In London alone, MFG's planned EV roll-out will nearly quadruple the number of open network Ultra-Rapid 150kW EV Chargers installed at the start of the year. The Company has so far opened 44, 150kW chargers in the Capital with a further 50 planned by the end of 2021.
MFG is investing in the new future of forecourts committing around £40million in 2021 alone on EV charging hubs as well as undertaking a £50m investment to improve its retail, food to go, and valeting offer to the consumer this year. This investment will continue in the years ahead across its UK wide network.
William Bannister, CEO, MFG, said:
"This is an important site for us as we see Putney as the industry-leading blueprint for the future of UK forecourts to achieve a practical transition from fossil fuels to electrically powered vehicles. It's part of MFG's dual fuel strategy – placing equal importance on electricity as a fuel source, compared to fossil fuel, providing motorists confidence that they will always be able to rely on MFG to keep them mobile.
"The concept is modern in design and provides high a quality retail and consumer experience for the community and for motorists to use whilst charging their vehicles, including state of the art valeting facilities.
"This is just another example of MFG continuing to deliver on our £400 million investment plan to support the transition to more sustainable transport future across the UK."