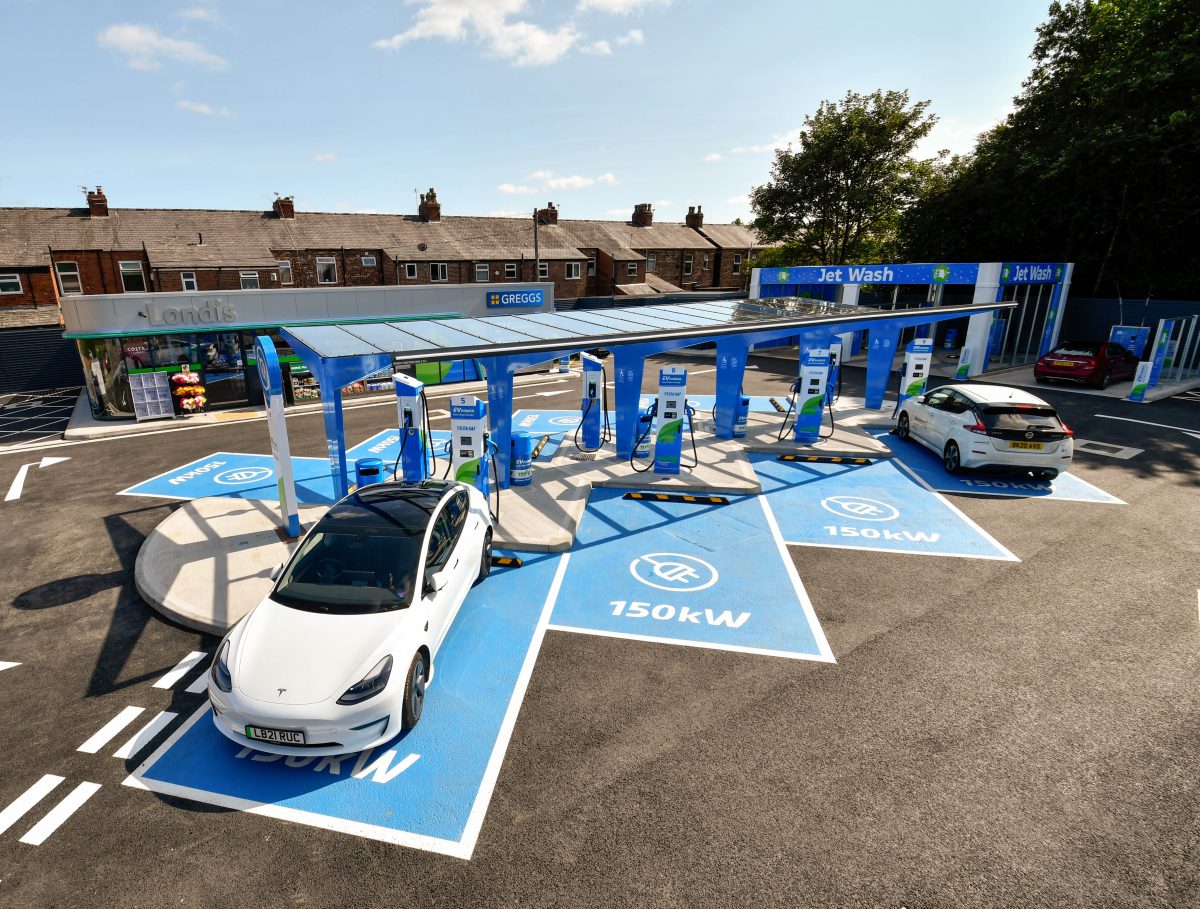 MFG Opens the North-West's First Dedicated Ultra-Rapid Electric Vehicle Charging Station at Manchester Forecourt
Motor Fuel Group (MFG), the market leading independent forecourt operator with over 900 sites across Great Britain, has opened the very first electric vehicle (EV) only forecourt and valeting centre dedicated solely to ultra-rapid chargers in the North-West of England – at its Stretford branch on the Chester Road, Manchester.
This is part of the next stage of MFG's dual-fuel strategy to serve Electric Vehicle customers as part of its emergence as a major charge point operator in the UK.
Not only is this MFG's first EV only charging hub, but this is Greater Manchester's first dedicated Ultra Rapid Charging forecourt, catering to all manufacturers of electric vehicles – helping to support Mayor Andy Burnham's plans of doubling the size of the region's EV charging network as set out in his inaugural Green Summit in March this year.
The site, strategically placed on the A56 has 8 dedicated ultra-rapid 150kW EV charging bays which can give 100 miles of range in just 10 minutes of charging.
In England, over 60% of dwellings in cities and urban areas do not have garages or other off-road parking provisions, and so must rely on electricity from publicly accessible networks.
MFG's investment, will increase the infrastructure available to drivers helping to alleviate range anxiety and increase driver's confidence in electricity as a fuel source, thereby improving EV adoption.
In addition to the first of its kind EV power site, Stretford contains a leading convenience retail offering serving the local community with a Londis and a Greggs at the site, as well as a valeting centre.
MFG is investing in the new future of forecourts committing around £40million in 2021 alone on EV charging hubs as well as undertaking a £50m investment to improve its retail, food to go, and valeting offer to the consumer this year. This investment will continue in the years ahead across its UK wide network.
Velautham Ravichandran, Contract Manager for MFG Stretford said:
"It is extremely exciting to be able to offer a dedicated ultra-rapid EV charging option to both our local community and those travelling through. We are now well positioned to serve UK motorists well into the future in this part of Manchester."
William Bannister, CEO, MFG, said:
"As part of our £400 million investment plans, we are delighted to be opening this EV only forecourt that offers ultra-rapid charging on the Chester Road in Stretford which is a first for the North-West of the country. With 8 ultra-rapid charging bays, we believe this site will help lead the local transition to more sustainable Electric Vehicles.
"MFG is committed to playing our part in 'levelling up' the charging infrastructure across the UK, beyond London and the South-East.
"We are investing heavily in ultra-rapid EV charging hubs alongside our existing fuel and convenience store network throughout the UK, including recent openings in Bristol and Birmingham and planned openings in Scotland and Wales this year. This is on top of a significant investment already by MFG in London which is leading the way in promoting cleaner motoring."