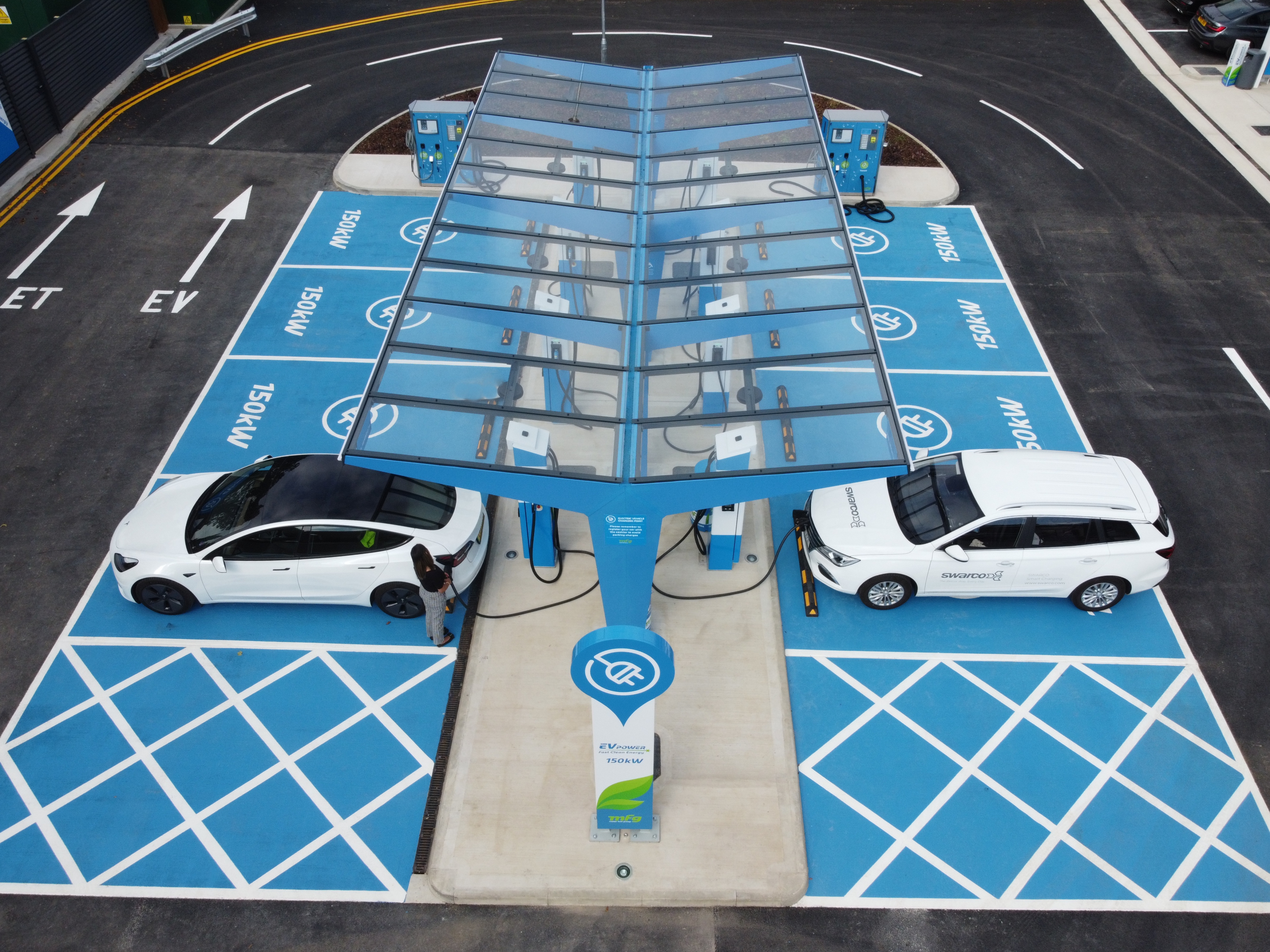 MFG To Open 60 EV Hubs In 2022 Investing Over £50 Million
Motor Fuel Group (MFG), the market leading independent forecourt operator with over 900 sites across Great Britain, is pleased to announce its EV investment plans for 2022.
Highlights:
• £50 million investment in 2022 on EV chargers across MFG's nationwide portfolio
• 60 EV hubs to open with 350 new Ultra -Rapid 150kW EV Chargers
• Zap-Map survey rated MFG the UK's second favourite public EV charging network after only one year of operation
2022 EV Investment Plans
As part of its commitment to invest £400 million in EV infrastructure by 2030, MFG plans to invest over £50 million in 2022 on dual-fuel and EV only sites across its nationwide portfolio. The investment will see MFG install over 350, Ultra-Rapid 150kW EV Chargers at 60 hubs throughout the UK. Beyond the 60 new hubs scheduled for opening in 2022, MFG will energise a further 20 sites in Q1 2022 that have been completed in the final months of 2021.
MFG hubs will consist of between four and eight Ultra-Rapid 150kW EV Chargers per site. 150kW chargers can add 100 miles range in approximately 10 minutes, subject to the charging capability of individual car batteries. These will be augmented with 300kW+ chargers as vehicle battery technology improves to maintain the fastest charging times across the MFG network. While these charging speeds are beyond the capability of most EV models currently on the market, MFG is investing ahead of the curve to build driver's confidence in electricity as a fuel source and supporting the Government's decarbonisation and sustainability agenda and emissions target of being net zero by 2050.
The investment in 2022 builds on the £40 million EV investment undertaken in 2021 which saw MFG significantly boost the national Ultra-Rapid EV charging infrastructure, as well as opening their visionary flagship forecourt in Putney and the North-West of England's first dedicated ultra-rapid EV only site in Manchester. Alongside its investment in EV, MFG made a £50 million investment to improve its retail, food to go, and valeting offer to the consumer in 2021. MFG's investment will continue in the years ahead across its UK wide network.
Results of Zap-Map Survey
MFG were delighted to be voted the nation's favourite new network and second favourite overall in the Zap-Map user ratings for public EV charging networks in the UK, on 13th December 2021. Despite only 10 months of operation, MFG's new network received an overall rating of 4.2/5. The survey found that customers rated MFG highly for its fast chargers, facilities on the forecourt and a safe environment. Customers also found MFG's chargers easy and reliable to use with a simple payment service on the MFG EV Power app alongside being Zap-Pay enabled by the start of 2022.
MFG is only in it's first year as a CPO and expects to continue to invest to improve service for customers by creating EV hubs with a leading retail offering and valeting services.
Dual-Fuel Strategy
Over the coming decades, MFG will operate a dual fuel strategy, meaning it will continue to provide existing fossil fuel infrastructure whilst placing equal importance on rolling out ultra-rapid EV charging hubs. On route charging will be a particularly important infrastructure for those drivers who do not have access to 'at home' charging. In England, over 60% of dwellings in cities and urban areas do not have garages or other off-road parking provisions, and so must rely on electricity from publicly accessible networks.
William Bannister, CEO, MFG, said:
"We have already invested significantly, and ahead of the curve, on EV charging across our portfolio. We have an ambitious roll-out programme for 2022 which is focused on our network throughout the UK. Our EV sites are modern in design and provide a high-quality retail and consumer experience for the community and for motorists to use whilst charging their vehicles. We look forward to delivering on our strategic plans throughout 2022."