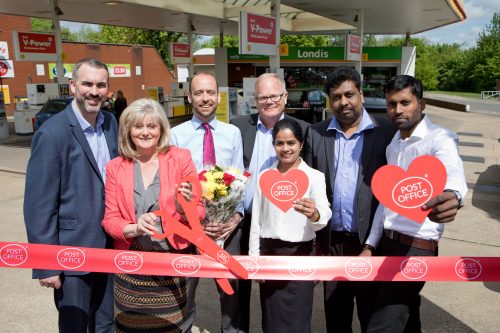 MFG Opens First Post Office
Top 50 Indies forecourt operator, Motor Fuel Group (MFG) is pleased to announce the opening of its first Post Office on its 438-strong UK network.
Offering a 7-day a week Post Office service to forecourt customers and the local community, this new service at the Shell King William Service Station in St Albans was officially opened by Anne Main, MP for St Albans.
Tony Walker, trading director for MFG, said: "With our company's head office being based in St Albans, we could see how ideally placed our Shell King William Service Station would be to offer the wide-ranging Post Office services. It's a 'win win' situation for everybody. We already have many different franchises at our service stations, but we are very excited to have now opened our first forecourt Post Office."
-ends-
Our photograph shows (l to r) Matthew Bird – operations director, MFG; Anne Main MP; Tom Moran – Post Office; Tony Walker – trading director, MFG; Dadsha Sivaramalingam – station contract manager; Sellarajah Gunalan – regional manager, MFG and Jey Sivaramalingam, Dadsha's husband.