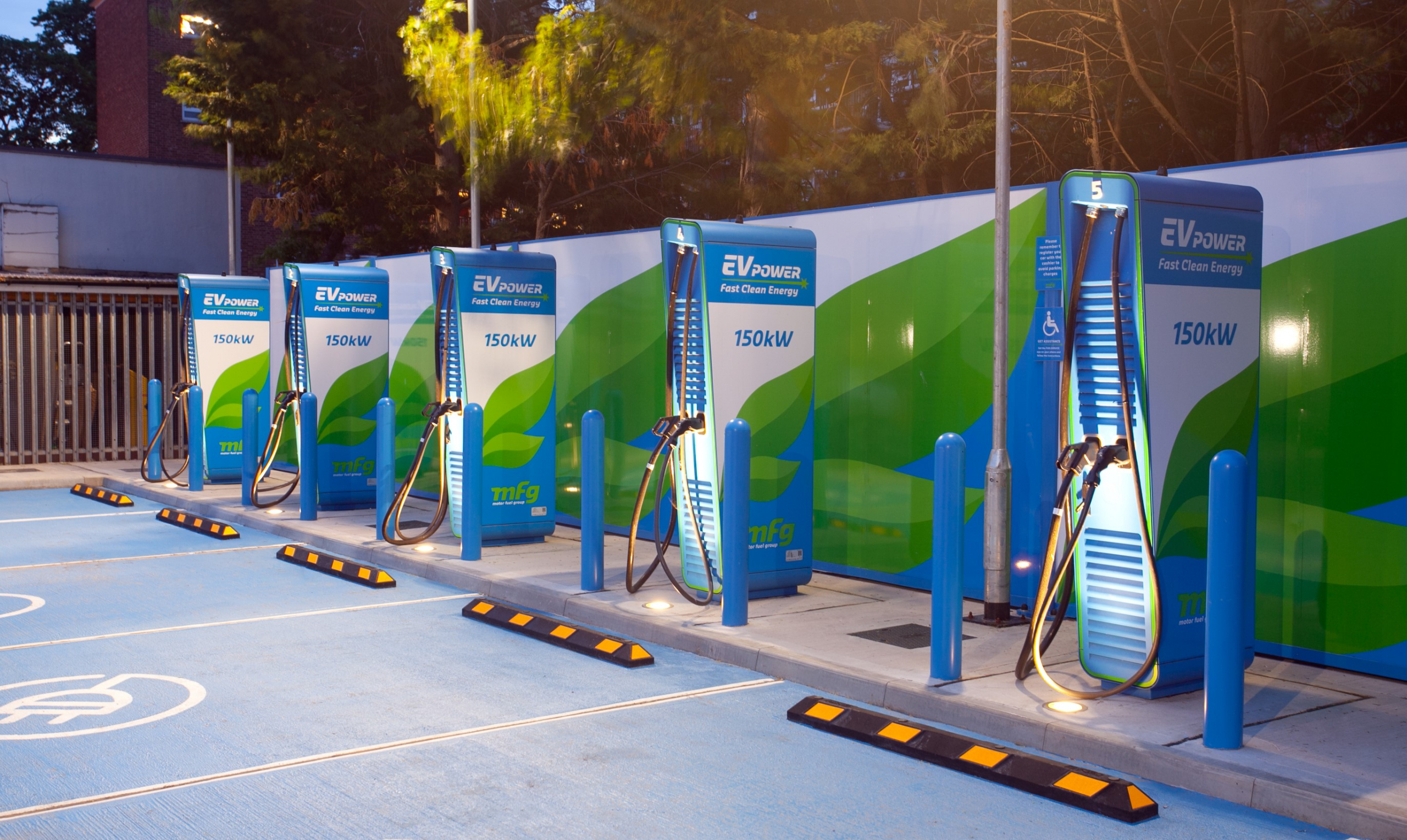 MFG Passes 500 Ultra-Rapid Electric Vehicle Chargers Milestone
MFG, the market leading independent forecourt operator with over 900 sites across Great Britain, is pleased to announce that 500 ultra-rapid electric vehicle ("EV") chargers have been installed across MFG's network.
Highlights:
500 Ultra-Rapid chargers installed across the UK, making MFG one of the largest public charging networks in the UK

MFG now represents 5.4% of the Ultra-Rapid UK public charging network
MFG's Ultra-Rapid chargers have powered over 50 million zero carbon miles across the UK so far in 2023

MFG launched its EV Powered roll-out in March 2021

MFG will install a total of c.3,000 Ultra-Rapid 150kW, 300kW and 400kW EV Chargers at c.500 sites by the end of 2030
By 2035, MFG plans to complete its EV roll out to all suitable remaining locations in its network

MFG's network was voted as the joint best charging network in Zap-Map's survey of EV drivers in the UK
MFG's Network
MFG has installed over 500 Ultra-Rapid EV chargers across 112 hubs throughout the UK. This is by far the highest rollout in the independent forecourt sector. MFG has powered over 50 million zero carbon miles so far in 2023, the equivalent of driving round the world 2100 times. MFG is funding the roll-out through its cash flows and strong balance sheet, enabling the Group to commit to c.£400 million investment in ultra-rapid 150kW, 300kW and 400kW EV Chargers.
In 2023 alone, MFG has installed 230 Ultra-Rapid EV chargers at 59 locations across its network. This investment is necessary as, for example, in England, over 60% of dwellings in cities and urban areas do not have garages or other off-road parking provisions, and so must rely on electricity from publicly accessible networks. Therefore, the velocity of MFG's EV roll-out will continue to accelerate as MFG invests ahead of the curve, giving drivers who were contemplating purchasing an electric vehicle the confidence that they could travel as easily as with a petrol or hybrid vehicle.
MFG hubs consist of between four and eight Ultra-Rapid 150kW EV Chargers per site. 150kW chargers can add 100 miles range in approximately 10 minutes, subject to the charging capability of individual car batteries. These will be augmented with 300kW and 400kW chargers as vehicle battery technology improves to maintain the fastest charging times across the MFG network, ensuring that MFG remains first choice for EV drivers across the UK
As MFG further establishes itself as a provider of essential infrastructure to enable the UK's mobility revolution on the strategic road network, it intends to actively target other charging segments and expand its EV offering. This investment demonstrates MFG's commitment to leading the forecourt sector in transitioning to a cleaner future, providing a significant boost to the Government's decarbonisation and sustainability agenda and emissions target of being net zero by 2050.
Convenience Retail
Alongside its investment in EV, MFG has committed £50 million to improve its retail, food to go, and valeting offer to the consumer across the network.  MFG's investment will continue in the years ahead across its UK wide network, aimed at improving customer service across its sites. MFG will also consolidate its position as one of the largest drop box and home delivery locations for major logistics companies such as Amazon, InPost, and ByBox. Through these partnerships MFG can help provide crucial last mile delivery in an increasingly on-line retail environment.
William Bannister, CEO, MFG, said:
"When we launched our EV roll-out in March 2021 we committed to investing ahead of the curve in ultra-rapid chargers. I am therefore delighted that we have already passed the 500 ultra-rapid  charger milestone and we are well on the way to delivering the next 500. Not only are we rolling-out chargers at a rapid pace, we are also ensuring that the customer experience is of the highest quality both through the ease of use of our chargers but also through the upgrade of our retail offering. Our commitment to EV is unwavering and I look forward to the continued growth of our network as MFG meets the national EV infrastructure requirement."
Melanie Shufflebotham, Co-founder & COO at Zapmap, said:
"It's fantastic to see an ultra-rapid network like MFG EV Power delivering on its commitment to support the shift to sustainable transport. The network's fast-paced rollout of eye-catching blue charging hubs is certainly impressive, and surpassing 500 chargers is a significant milestone. Importantly, it's also a milestone that brings real benefits to electric car drivers up and down the UK. Safe, reliable and easy to use, we know that MFG charging locations are well received by drivers because MFG came joint-first in Zapmap's latest annual EV charging survey.
"Zapmap is proud to partner with MFG EV Power, a network that brings fast, clean energy to electric car drivers across the country, and one that makes paying for charging that much easier with Zapmap's cross-network payment solution."
ENDS