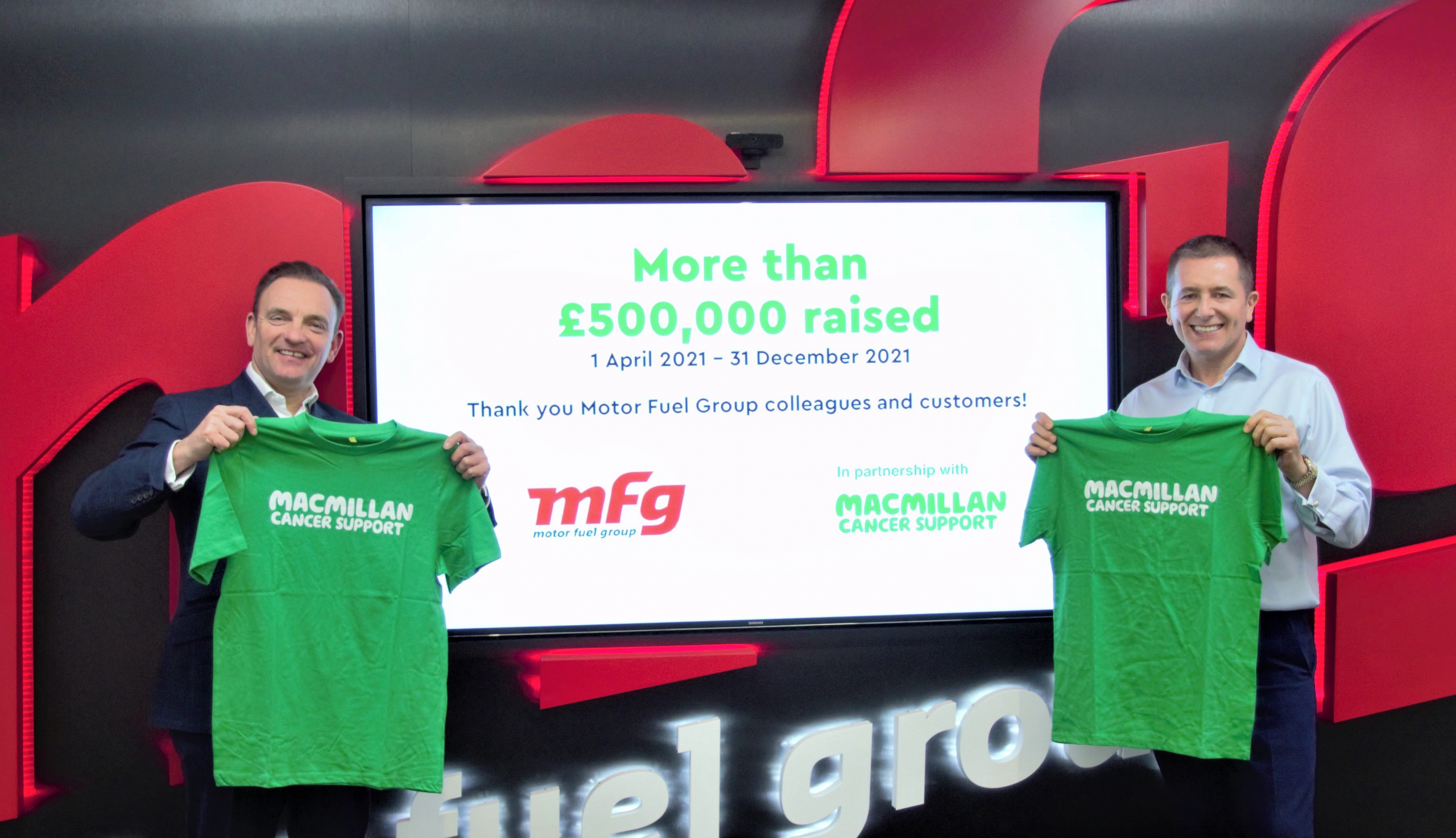 MFG raises more than £500,000 for Macmillan Cancer Support
MFG, the market leading independent forecourt operator with over 900 sites across Great Britain, is pleased to announce that since the launch of its partnership with Macmillan Cancer Support in April 2021, it has raised over £500,000 for the charity. This positive milestone has been achieved through the support of MFG customers donating at every site across the UK and the fundraising activities of MFG's employees and contract managers.
Macmillan Cancer Support is one of the UK's largest charities and provides specialist care and support to people affected by cancer, offering emotional, physical and financial support from the moment people receive a diagnosis.
Becky Ettinger, Head of Corporate Partnerships at Macmillan Cancer Support, said:
"We are so grateful to the team at Motor Fuel Group for their incredible support throughout the past nine months, and we'd like to say a huge thank you to all its employees and customers for going above and beyond to help raise this incredible amount.
"Being diagnosed with cancer is scary and right now it might feel scarier than ever due to the impact of the Covid-19 pandemic. Our partnership with MFG is playing a vital role in ensuring we can continue to do whatever it takes to be there for people with cancer when they need it most, and to help people live life as fully as they can."
The Covid-19 pandemic has had a devastating impact on cancer care with many people with cancer experiencing longer waits, cancellations, or changes to treatment. On top of this, Macmillan estimates that almost 50,000 people are missing a cancer diagnosis across the UK due to the disruption caused by the pandemic*.  Through this ongoing partnership, MFG is raising funds to help ensure Macmillan can continue to provide the vital support so many rely on.
MFG has a long track record of supporting community focused charities. Prior to its partnership with Macmillan, MFG has previously supported a number of charities including Help for Heroes, RNIB, NSPCC and several regional Air Ambulance charities. MFG has also raised over £250,000 for NHS Charities Together between May 2020 and March 2021.
MFG customers can make a donation to Macmillan either through cash collection boxes, QR code readers or in some stores via MFG's charity partner Pennies, which enables customers to top-up for charity when paying by card or digital wallet.
William Bannister, CEO, MFG, said:
"We are delighted to reach this significant milestone of raising £500,000 for our charity partner Macmillan. We would like to say a huge thank you to all our customers who have donated so generously over the past nine months for this incredibly important charity, which provides vital support to so many people in the communities MFG serve, and across the UK. We are extremely proud that we have been able to raise these vital funds, and we look forward to continuing this partnership throughout the year."
 Pix shows (l to r) William Bannister and fellow MFG director, Jeremy Clarke.